Loafers, Good Christmas Gift for Your BF/ GF
  Merry Christmas! Haven't decided what to give your lover as a Christmas gift? Why not choose a pair of beautiful and practical loafers?
What are loafers?
  Loafers mostly refer to flat-soled or low-top leather shoes without laces. Because they are easy to put on and take off as well as feel comfortable on the feet, this style of shoes is loved by so many people. They can be matched with short skirts, hip skirts, casual suits, etc., which are fashionable and comfortable.
  The original meaning of the word "Loafer" refers to a leisurely lifestyle, and "Loafer" represents a group of people with such a leisurely attitude towards life, either.
  Its other name is also called lazy shoes, which is closely related to the ease of putting on and taking off this kind of shoes, the style is simple and casual and easy to match.
 Fashion encourages women to pay attention to the appearance and quantity of shoes, but makes men more focus on the connotation of shoes. Wearing loafers can create the modern style of urban men. They are happy in time, are naturally fashionable, and like casual enjoyment.
  Nowadays, loafers have gradually developed into a kind of casual shoes, low-key and more comfortable, they are usually the favorite for going out shopping or leisure.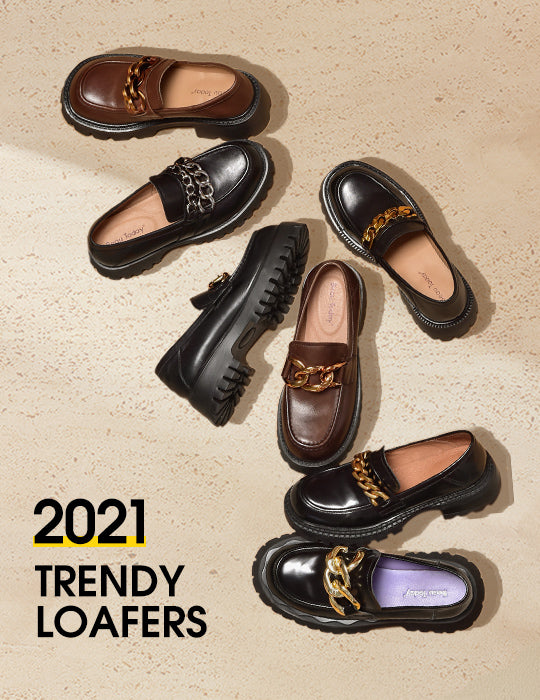 The reason why loafers are favored is that in addition to the convenient way of putting on and taking off, men who are already lazy can wear slippers in a very rough and simple way, the most important thing is that loafers are versatile, which can satisfy ordinary people.
  The dress regulation requirements for business occasions can also be used as daily shoes to make the whole set more colorful, no longer a single sports casual shoe.
How to match with outfits? 
  Loafers can replace business leather shoes with laces and business suits. In theory, various styles of loafers can be matched, but for relatively serious and formal occasions, low-key and textured penny loafers are more suitable , Followed by loafers with horsebit buckles decorated with metal rings. Leather loafers are more suitable for business suits.
  Casual suits can be matched with penny loafers, horsebit loafers or tassel loafers, and there are no strict requirements on the material. The texture looks more advanced leather material, and the stylish retro suede material And velvet material, you can choose different loafers according to the style of the suit.
  Loafers can not only be paired with suits, but also with casual pants, jeans and even shorts to make you look comfortable and fashionable.
  Now, you should know the necessity of buying a pair of loafers for your lover!
If you are interested in loafers, just click on our store.
---